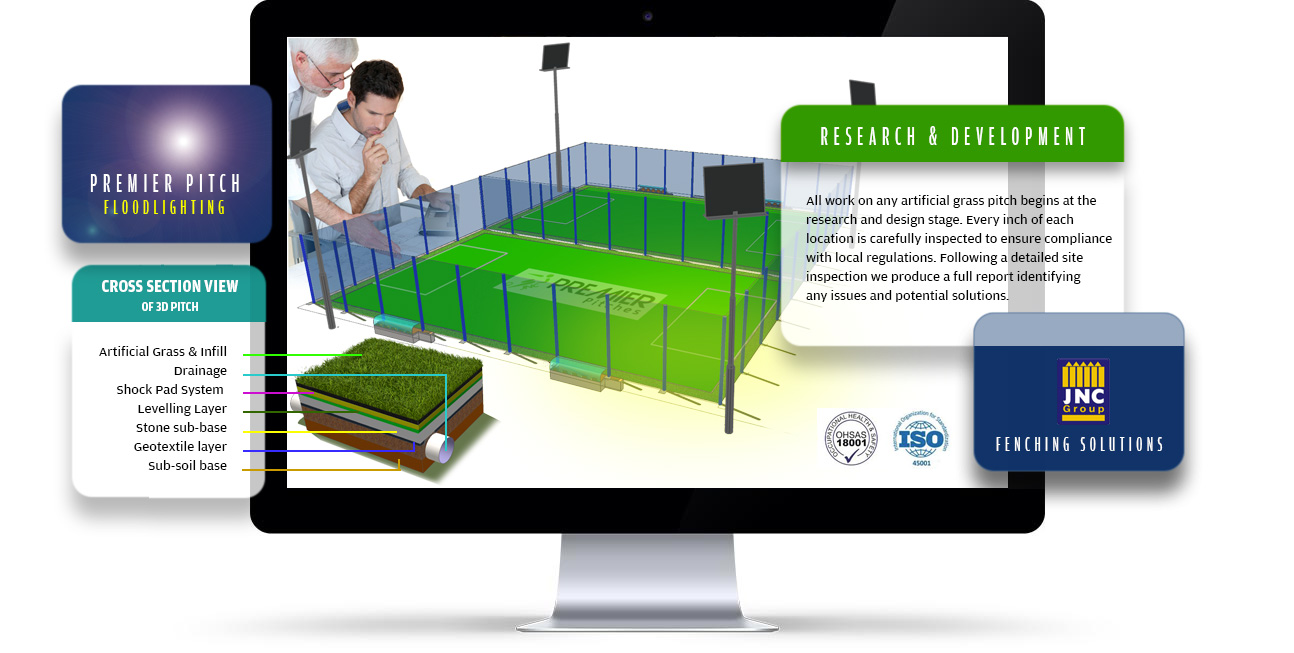 With over 30 years of experience in the construction market, we have been involved in designing and building every type of playing field imaginable, we have developed a unique system ideal for all recreational uses. Our artificial grass products are fully certified to all required sporting standards including FIFA, GAA, World Rugby, FIH and Tennis. Our fencing is manufactured and powder coated through our sister company JNC Engineering and JNC Powder-coating which results in an unrivalled level of quality in all aspects of the build. All components of the project are carried out in house. From design and planning to installation our team have got you covered.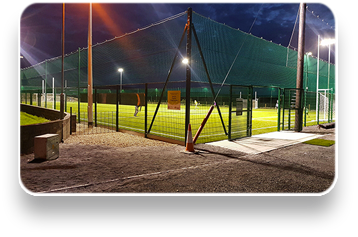 NEW BUILDS
Rollover for more
NEW BUILDS
At Premier Pitches, we supply the highest quality synthetic grass available including everything from design and advice to ground works, drainage, hurling walls, floodlighting, ball-stop netting, shock-pads, grass installation and fencing. All of our grass installations are certified for GAA, FIFA, Rugby and Hockey pitch standards. We will happily call to you (anywhere in Ireland) to conduct a full site visit to give advice and a quotation – all with no obligation and completely free of charge.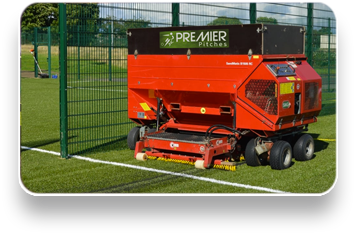 MAINTENANCE
Rollover for more
MAINTENANCE
Incorrect or uneven sand and rubber infill distribution can lead to increased wear and maintenance and shorter pitch life with greater costs. Quality and efficiency are at the heart of everything we do at Premier Pitches and so we have invested in the SMG Sandmatic. Using the specialist SMG Sandmatic to spread infill on your pitch, we can regulate infill levels to the exact requirement and achieve an even distribution of sand and rubber deep within the grass pile which cannot be achieved using conventional infill spreading methods such as a drop spreader.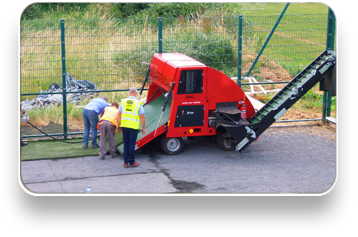 RESURFACING
Rollover for more
RESURFACING
Premier Pitches unique method of pitch refurbishment using the SMG Turf Muncher carefully removes the sand and rubber infill from the old synthetic carpet. This allows for the recycling and reuse of the old synthetic grass for a range of secondary activities such as domestic use in gardens, agricultural use and other play areas thus allowing your club, school or organisation to recoup some of the initial project costs.
A FEW WORDS FROM OUR BRAND AMBASSADOR
LIAM CAHILL, ALL STAR WINNER, MULTIPLE ALL IRELAND WINNING MANAGER AND CURRENT WATERFORD SENIOR HURLING MANAGER
As a former inter-county player and current senior county manager, I am delighted to be the brand ambassador for JNC Premier Pitches. For me personally, Premier Pitches are synonymous with providing a top-class product that gives excellent value, comfort, and most of all safety to many clubs, schools and colleges around the country. Premier Pitches allow sportsmen and women of all ages and ability to pursue and enjoy their chosen sports throughout all seasons. I have had the pleasure of facilitating many training sessions on JNC Premier Pitch surfaces and have found them to be of the highest standard and quality. Premier Pitches offers a one-stop-shop service that is unrivalled for value and quality. From turning the first sod of turf to the final product, everything they do is second-to-none and I'm delighted to be associated with them. Over the next several years I will be offering my support every step of the way.
1ST choice by PROFESSIONALS NATIONWIDE

Premier Pitches is part of the JNC Group, a family owned group of companies, dedicated to the design, manufacturing, and installation of high-grade fencing and premium recreational solutions. Having access to such a wide-range of innovative products and highly-trained staff allows us to remain truly competitive and deliver real cost savings to our growing customer base. The JNC Group has also been awarded the prestigious BS EN ISO 45001:2018 Certificate for maintaining the highest standard of Health and Safety in the provision of security fencing and sports surfaces.
Premier Pitches has established itself as one of the leading Astro Turf installers in the market today. JNC Group has been in business for over 30 years making it one of the most trusted businesses for clients to work with.